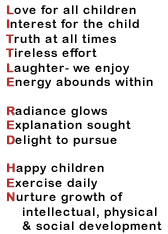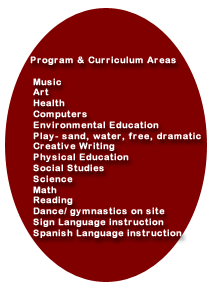 Little Red Hen School was founded in 1948 with the belief that children of preschool age can benefit from organized learning and social experiences outside the home. Our objective is for children to discover and develop their own abilities, interests and friendships as well as to learn the pleasures and responsibilities of being a group member. The goal is to create life long learners by exploration of study topics via books, computers, group discussion, imaginative play, community resources and a wide variety of activities.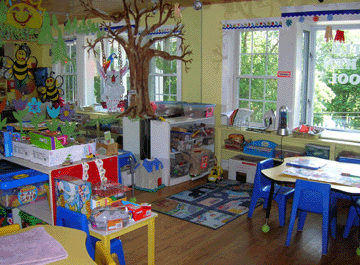 Educational Goals:
To develop the whole child- social, emotional, physical and intellectual.

To meet the individual needs of each child.

To help each child develop to the fullest potential.

To develop a positive self-concept in every child.
A typical day at Little Red Hen:
| | |
| --- | --- |
| 8:00 | School Opens |
| 8:45-9:45 | Child Choice Time- Children engage in free choice activities such as blocks, art, science activities, dramatic play, water play, books. |
| 9:45-10:15 | Music Time- Finger plays, games, songs, and lots of fun! |
| 10:15-10:30 | Circle Time- Children in age divided groups are involved with stories, songs, language arts, creative movement and other group experiences. |
| 10:30-10:45 | Snack Time- Children help prepare themselves snack. This is a natural opportunity for children to make choices and learn self-help skills such as hand washing, pouring juice and spreading toppings. |
| 10:45-11:30 | Activity Time- each group has 3 or 4 activities such as small manipulatives, sand or water play, dramatic play, and creative art for children to choose from. |
| 11:30-11:45 | Outdoor Play- Children have the opportunity to use the outdoor playground. |
| 11:45 | Morning Children go home. |
| 12:00-12:30 | Lunch- Children sit in small groups for lunch. They are encouraged to independently complete their meal while discussions occur about the day's events. |
| 12:30-1:00 | Transition Time- Children who have been at school all morning get ready for quiet time inside, then prepare for outdoor play after a little rest. |
| 1:00 | Afternoon Preschool Begins... |