Our Philosophy: Our program is based on a belief in the uniqueness and intrinsic value of each child, student and staff member. We therefore strive to develop a program that will enhance the development of each child to the fullest extent possible.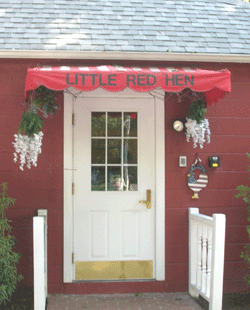 Our Program philosophy and objectives are based on the integration of a number of theories of child development and early education as well as on recent research findings. In general, this work suggests that the young child learns and develops through active involvement with the world. Through this active process the child constructs knowledge of the world around him that make sense in terms that he/she can understand.
We also believe, based on child development theory and research, that the young children learn best when they have and are challenged to advance to new knowledge that is intrinsically interesting to them.
Ratios:
3 year old program- 8-10 with 2 teachers

4 year old program 16-18 with 2 teachers

5 year old Kindergarten program 16-20 with 3 teachers
For a Typical Daily Curriculum, click here.
Little Red Hen School was founded in 1948 with the belief that children of preschool age can benefit from organized learning and social experiences outside the home. Our objective is for children to discover and develop their own abilities, interests and friendships as well as to learn the pleasures and responsibilities of being a group member. The goal is to create life long learners by exploration of study topics via books, computers, group discussion, imaginative play, community resources and a wide variety of activities.
Educational Goals:
To develop the whole child- social, emotional, physical and intellectual.

To meet the individual needs of each child.

To help each child develop to the fullest potential.

To develop a positive self-concept in every child.