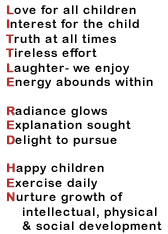 Welcome to Little Red Hen!
We are a truly a stimulating place for children to grow and develop into caring and competent learners. We seek to nurture their minds and spirits by providing a positive schooling experience which will be a bridge to a bright educational future. ~Jane Ann Conway, Ed.M Director
Best Kept Secret In Rhode Island!

---
Our Philosophy: Our program is based on a belief in the uniqueness and intrinsic value of each child, student and staff member. We therefore strive to develop a program that will enhance the development of each child to the fullest extent possible. Our Program philosophy and objectives are based on the integration of a number of theories of child development and early education as well as on recent research findings. In general, this work suggests that the young child learns and develops through active involvement with the world. Through this active process the child constructs knowledge of the world around him that make sense in terms that he/she can understand. We also believe, based on child development theory and research, that the young children learn best when they have and are challenged to advance to new knowledge that is intrinsically interesting to them.
---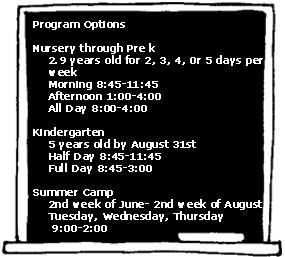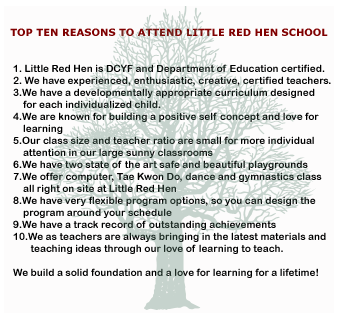 ---
Learning Environment: The school is located on a hill overlooking beautiful Greenwich Bay. Our expansive specially designed play yard is full of fun activities for climbing, swinging, sand and water play.
The school has four classrooms equipped with blocks, dramatic play, sand-water tables, manipulative games, computer availability, and materials for art, science, math, music, creative movement and language arts. Our library has over 2,000 titles including books and tapes. We have an all-purpose room for computer, gym, and dance programs.
---
Ratios:
3 year old program- 8-10 with 2 teachers
4 year old program 16-18 with 2 teachers
5 year old Kindergarten program 16-20 with 3 teachers
---
Again in 2013 the Kindergarten class's poster has been selected as a winner in the USEPA Annual Paul G. Keough Artists Program. View our winning poster.
---
Awards: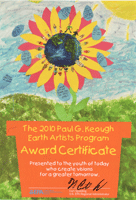 The United States Environmental Protection Agency awarded the Kindergarten a special citation for their information and awareness concerning the reduce, reuse, recycle situation.